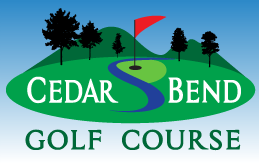 Cedar Bend Golf Course is a 9-hole mentally engaging course which features 3,000 yards of golf from the longest tees for a par of 36. Designed by John Zoller, the course opened in 1971. The short layout will reward good shots and provide a fun golf outing for everyone. Golfers must consider the combination of elevated tees and greens, along with the creek and little mounds adjacent to several greens.
Each green includes two flags - one for the front nine, one for the back nine. With the two flags on each green and some tee boxes that change between the two nines, Cedar Bend has the feel of an 18-hole golf course.
Information Disclaimer
Course length, rating and slope is based on middle-tees where applicable. Information is kept up-to-date from season-to-season and is drawn from the course's own website. You can visit this Cedar Bend Golf Course website directly by clicking here.