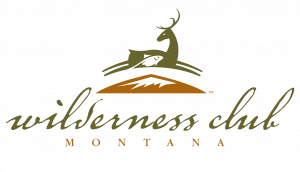 Designed by the legendary Sir Nick Faldo, the Wilderness Club championship golf course is recognized as the #57 ranked golf course in America by Golf Digest (September 2021), and #1 in Montana by Golf Week (2022). With spectacular views and impeccable conditioning, it is truly an unforgettable experience.
From our paved pathways, you can enjoy the unencumbered views of the surrounding mountain ranges and our fairways punctuated with lakes and streams. Wilderness Club boasts an expansive all grass driving range, a 9,000 sq. ft. putting green, and 7,000 sq. ft. pitching green which includes a deep faced bunker allowing golfers to practice almost all shots required on the golf course up to 50 yards.
Whether you have a low handicap or are an absolute beginner, you will find our beautiful golf course memorable, challenging, and well-maintained. In Montana, you never know what wildlife might show up along the course during your round. Ponderosa pine-lined fairways, waste bunkers, and deep greenside bunkers frame each hole along with spectacular vistas of nearby mountain ranges, and four tee box positions from 5431 to over 7200 yards allow play for all levels of experience.
Information Disclaimer
Course length, rating and slope is based on middle-tees where applicable. Information is kept up-to-date from season-to-season and is drawn from the course's own website. You can visit this The Wilderness Club website directly by clicking here.