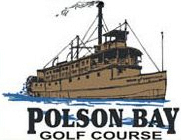 Experience Montana golf the way you imagine it should be… the way it is at Polson Bay Golf Course. Open to the public since 1938 and a Flathead Valley favorite for decades, its twenty-seven breathtaking holes boast spectacular lake and mountain views and comprise the only golf course with fairways adjacent to the shores of Flathead Lake, the largest natural freshwater lake west of the Mississippi.
Along with the incredible scenery and immaculate playing conditions, you will find unbeatable value and a friendly, knowledgeable staff. Polson Bay Golf Course offers superior value in a relaxed atmosphere and has been credited with a 4STAR RATING in "Places to Play" by Golf Digest.
Information Disclaimer
Course length, rating and slope is based on middle-tees where applicable. Information is kept up-to-date from season-to-season and is drawn from the course's own website. You can visit this Polson Bay Golf Course website directly by clicking here.