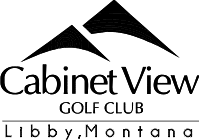 Cabinet View Golf Club is a majestic, challenging 18 hole golf course with spectacular scenery and breathtaking views of the Cabinet Mountains located in beautiful Libby, Montana. CVGC is offers great seasonal and daily rates. Book your tee time now!
Information Disclaimer
Course length, rating and slope is based on middle-tees where applicable. Information is kept up-to-date from season-to-season and is drawn from the course's own website. You can visit this Cabinet View Golf Club website directly by clicking here.