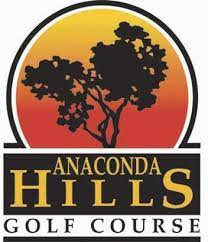 Anaconda Hills Golf Course started out as a 9 hole course with sand greens in the 1920's as an employee course for the Anaconda Smelter Company.
The City of Great Falls acquired the course in the 1970's and added grass greens. In 1992, another 9 holes were opened. The 18-hole course plays to a par of 69 and measures just under 5,700 yards from the back tees. The front (original) 9 is hilly and tree-lined and features small, sloping greens. The keys for scoring are on the 2nd, 4th, and 9th holes. These are, respectively, two long par threes and an uphill, narrow par five. The newer back 9 is routed across hilly land with ravines, natural rough, and water guarding the large greens.
While short in length, the 18 holes require more brains than brawn. Careful tee shot placement and good putting is essential to good scoring. The course can be played at various lengths, making it enjoyable for even the beginning golfer.
Information Disclaimer
Course length, rating and slope is based on middle-tees where applicable. Information is kept up-to-date from season-to-season and is drawn from the course's own website. You can visit this Anaconda Hills Golf Course website directly by clicking here.