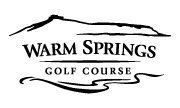 An 18-hole championship course shaded by mature trees, Warm Springs Golf Course is just minutes from downtown Boise. On the banks of the Boise River, the course features spacious fairways, well-tended greens, numerous ponds, and scenic views of the Boise Foothills.
The course plays at the base of the foothills with some holes running along the Boise River making the scenery on this course very enjoyable.
Information Disclaimer
Course length, rating and slope is based on middle-tees where applicable. Information is kept up-to-date from season-to-season and is drawn from the course's own website. You can visit this Warm Springs Golf Course website directly by clicking here.