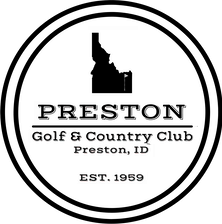 Preston Golf and Country Club is a 18-Hole Championship golf course located at the North end of beautiful Cache Valley.
Preston Golf and Country Club is a semi-private golf course that is open to the public everyday. Our affordable rates, easy going attitude, and quick pace of play make it a great place to spend a day golfing. We are welcoming to family groups, ladies, and juniors but are still able to challenge the serious golfer.
The front nine was opened in 1960. It is a mature nine with tree lined fairways and small challenging push-up greens. The back nine was constructed in the late nineties and opened midsummer of 1999. The back has an open layout with larger greens and multiple hazards. The two different nines provide ample diversity and give the nine-hole players a couple of different options.
Information Disclaimer
Course length, rating and slope is based on middle-tees where applicable. Information is kept up-to-date from season-to-season and is drawn from the course's own website. You can visit this Preston Golf & Country Club website directly by clicking here.