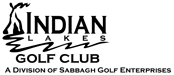 The scenic Indian Lakes Golf Club gives the golfer a feeling that is not found anywhere else near Boise. The course is perfect for all levels of golfers to be challenged while having a lot of fun. Our picturesque golf course will allow you to focus on your golf game and leave the distractions of life behind. You will be able to test your skills with our long fairways, various water hazards and tactically placed bunkers. Following your round of golf, you will be wanting to come back and play more.
Trees line the paths at this public course, designed for golfers of all levels. Surrounded by mountain views, golfers enjoy well-maintained greens on a naturally rolling terrain that will challenge all aspects of your game.
Information Disclaimer
Course length, rating and slope is based on middle-tees where applicable. Information is kept up-to-date from season-to-season and is drawn from the course's own website. You can visit this Indian Lakes Golf Club website directly by clicking here.