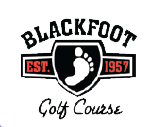 Blackfoot Golf Course is one of the most professionally operated courses in the state. This beautiful course runs along side the Snake River giving you the best experience as you play your game.
Designed by Von Elm, construction on Blackfoot Golf Course was completed in 1980.
Information Disclaimer
Course length, rating and slope is based on middle-tees where applicable. Information is kept up-to-date from season-to-season and is drawn from the course's own website. You can visit this Blackfoot Golf Course website directly by clicking here.