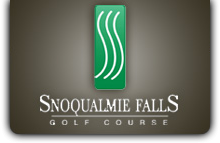 Snoqualmie Falls Golf Course is located in the beautiful Snoqualmie Valley with views of scenic Mount Si. The course is well maintained year round and is known for its beautiful landscaping and picturesque views. Snoqualmie Falls Golf Course is an eighteen hole, par 71, layout measuring 5,900 yards from the blue tees. Come enjoy our friendly, relaxed atmosphere and you'll come back again and again.
Information Disclaimer
Course length, rating and slope is based on middle-tees where applicable. Information is kept up-to-date from season-to-season and is drawn from the course's own website. You can visit this Snoqualmie Falls Golf Course website directly by clicking here.