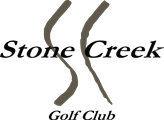 Stone Creek Golf Club is a Peter Jacobsen/Jim Hardy designed course. The course is scenically designed and offers spectacular views of Mt. Hood.
The golf course is laid out over 120 acres of land with old-growth Douglas Firs, lakes, four wetlands, and forty-three bunkers. The grounds are beautifully groomed by our experienced maintenance crew.
Information Disclaimer
Course length, rating and slope is based on middle-tees where applicable. Information is kept up-to-date from season-to-season and is drawn from the course's own website. You can visit this Stone Creek Golf Club website directly by clicking here.