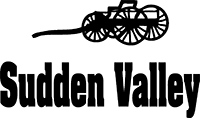 The front nine of Sudden Valley Golf Course is relatively open and flat and borders the shores of Lake Whatcom. Fairway landing areas are relatively generous and the greens are large.
However, the back nine follows a ridge uphill with narrow evergreen-fringed fairways and smaller greens that have more character.
Sudden Valley is considered a true masterpiece, stressing finesse and accuracy with water hazards on fourteen of the eighteen holes and some forty-seven bunkers sprinkled throughout the course.
These course details make Sudden Valley Golf Course the premiere golf destination in Bellingham, Washington.
Information Disclaimer
Course length, rating and slope is based on middle-tees where applicable. Information is kept up-to-date from season-to-season and is drawn from the course's own website. You can visit this Sudden Valley Golf Course website directly by clicking here.