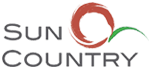 Sun Country Golf is a wonderfully maintained 18-hole golf course set amongst the Cascade Mountains and provides the perfect relaxing weekend get-away. Located near the heart of the Cascade Mountains 90 minutes East of Downtown Seattle.
Enjoy the fun and challenging 18 hole, Alpine course. SunCountry is an updated 18 hole course that is sure to challenge the veteran golfers, but also be enjoyed by the beginners. SunCountry Golf has some of the most breath taking views in Central Washington and offers a variety of challenges.
Our course is a laid back atmosphere for golfers looking for an affordable relaxing round of golf.
Families, couples and groups alike will find the "New Sun Country Golf" the place to go for a day, a weekend, or a full season of enjoyment.
Information Disclaimer
Course length, rating and slope is based on middle-tees where applicable. Information is kept up-to-date from season-to-season and is drawn from the course's own website. You can visit this Sun Country Golf Course website directly by clicking here.