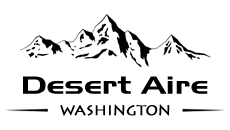 Desert Aire is located about 18 miles south of Interstate 90, nestled next to the majestic Columbia River. It has some of the highest temperatures in Washington during the summer and is one of the driest places in the state. Desert Aire is located in the rain shadow of the Cascade Mountains, but truly has some of the best weather in the entire state.

Desert Aire Golf Course is a community golf course set along the east bank of the Columbia River just below Wanapum Dam in Central Washington. It's level course so it can be a good walking course. Your best bet for playing is during the winter months. You'll quickly see why the area is a great place to live, play, and partake in many activities for the entire family!
Information Disclaimer
Course length, rating and slope is based on middle-tees where applicable. Information is kept up-to-date from season-to-season and is drawn from the course's own website. You can visit this Desert Aire Golf Course website directly by clicking here.