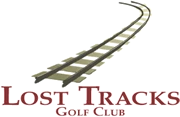 Lost Tracks Golf Club is an 18 hole championship public golf course in beautiful Bend, Oregon.
Designed by Brian Whitcomb, Lost Tracks Golf Club is a par 72 layout which offers subtle features that will challenge and excite golfers of all abilities. Lost Tracks Golf Club offers open play to the general public.
Information Disclaimer
Course length, rating and slope is based on middle-tees where applicable. Information is kept up-to-date from season-to-season and is drawn from the course's own website. You can visit this Lost Tracks Golf Club website directly by clicking here.