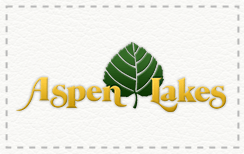 Aspen Lakes Golf Course is a family-owned, public golf course in Sisters, Central Oregon. With the most scenic views, unique red sand bunkers and world-class staff and customer service, whether you are a local or when you visit Central Oregon, we think you'll agree Aspen Lakes is a don't miss venue!
The concept for Aspen Lakes Golf Course in Sisters Oregon, began in 1988 when the Cyrus Family acquired a 1,084 acre parcel adjacent to their family farm. The first nine Aspen Lake golf holes were constructed in 1996 under the watchful eye of World Class golf course architect William Overdorf. He worked with the existing site to sculpt this incredible mountain view golf course into the existing Central Oregon landscape. As important natural features were identified during construction, the plans were modified to incorporate them into the golf course rather than destroy the feature.
The second nine Aspen Lakes golf holes were opened in 1999.The signature red sand for the bunkers originated on the Cyrus property. When it came time to install the bunkers, it was discovered that the "normal" sand that the other central Oregon golf courses use is hauled in from other states. In looking at alternatives, it was decided that it would be more environmentally friendly to use local materials already in Central Oregon. Red cinders that occur naturally on the Cyrus property were crushed down to make sand. The deep red sand creates a visual delight as it contrast with the green grass, blue skies and white, snow covered, mountains that are the Aspen Lakes Golf Course signature.
Information Disclaimer
Course length, rating and slope is based on middle-tees where applicable. Information is kept up-to-date from season-to-season and is drawn from the course's own website. You can visit this Aspen Lakes Golf Course website directly by clicking here.